"Dobrodiya Foods" company has initiated the "Kindness in Action" social project from "Dobrodiya" TM. Its main goal is to support Ukraine by the company and consumers of its products – oat flakes under the brand name "Dobrodiya".
Every Ukrainian will be able to get involved in the project by purchasing TM "Dobrodiya" staples with the "Kindness in Action" sticker. When buying flakes of the selected range (flagship products of TM "Dobrodiya"), UAH 1 of its value will be deducted to cover the urgent needs of Ukrainians in the affected areas, primarily in the Chernihiv region. Proceeds from the sale will be donated to a regional charitable fund that takes care of the problems and needs of local communities.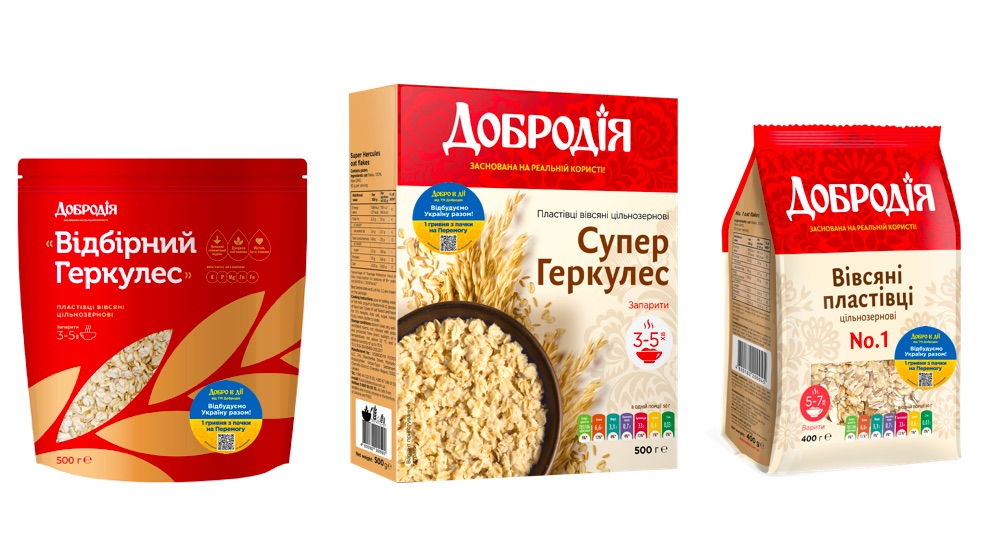 "Immediately after the deoccupation of the Chernihiv region, where our plant is located, we became actively involved in providing products to the regions that needed it most. Our humanitarian goods with oatmeal have been weekly sent to Chernihiv, Luhansk and Donetsk regions. As soon as our production restored the work, we continued to help and in partnership with one of the charitable foundations launched a new social project. "Now, having purchased TM "Dobrodiya" products with the Good in Action sticker, every buyer would be involved in a good deed of helping Ukrainians affected by the war. And also, to our common task of rebuilding Ukraine's economy, "said Iryna Broslavtseva, Director of Dobrodiya Foods.
"Despite all the difficulties we have faced during the revival of production, our company continues to maintain direct communication with Ukrainians. With those who already know us, as well as with those who will continue to be involved in mutual support for the revival of Ukrainian business and economy, as well as assistance to war victims. We are approaching victory together!" added Yulia Gabay, Marketing Director of Dobrodiya Foods.
The first stage of the project is designed for 3 months. Further development and expansion of social assistance is planned. All information on these funds and targeted assistance will be published on the website of TM "Dobrodiya" at the link.